About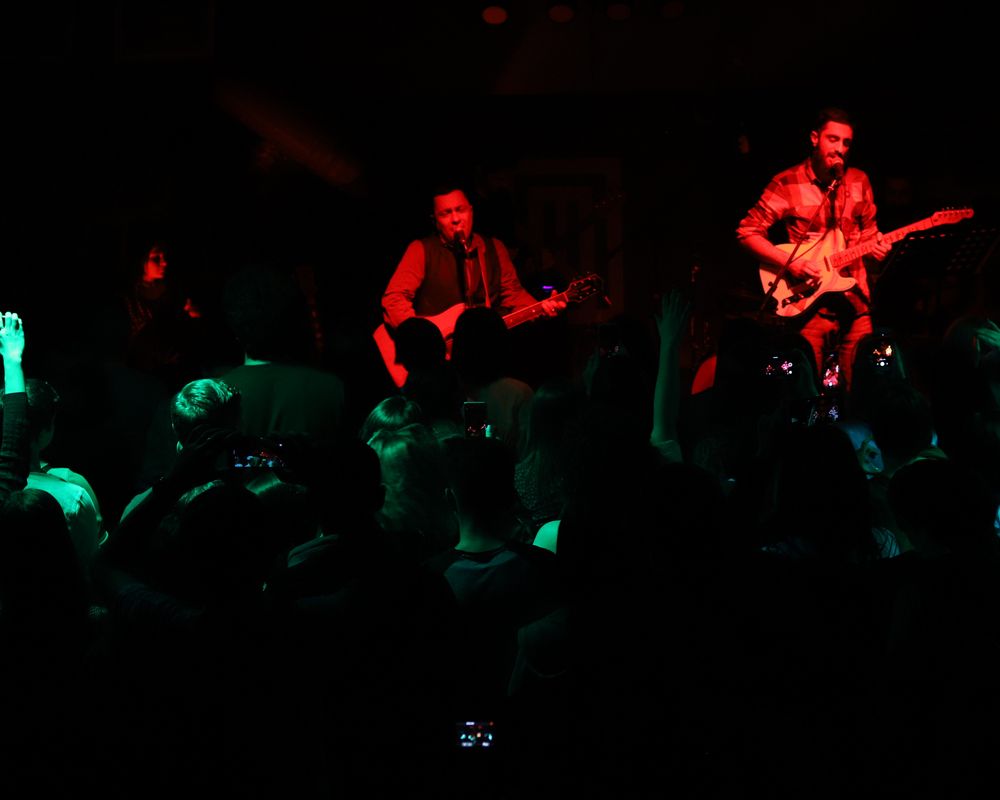 LAV ELI
armenian Alternative folk rock band
Lav Eli is a rock band from Vanadzor, Armenia that was formed in 1996 by Mher Manukyan and Gor Mkhitarian. Previously from the band SNACK, they picked up two members from the group ALQ in David Grigoryan and Vahe Terteryan and formed their classic lineup for a demo recording in 1997 entitled "The First Lav Album". This limited edition cassette of two hundred units was printed in Armenia and had twenty-one songs- ten in English and eleven in Armenian. It became a local underground classic in the hands of kids and adults alike who craved an original Western rock sound that was homegrown and Armenian.
In 1999, another Lav Eli recording was made in the name of "Essays", this time with the help of a local Armenian rock champion named Artyom Ayvazyan who gave it heavy radio airplay on the influential Yerevan based Radio Burg program on 107.1 FM. Although the recording was never released in any format, burned copies of the "Essay" sessions passed hands within a dedicated rock music listening mass throughout Armenia. Suddenly, the rock quartet was playing in medium sized venues throughout Yerevan in addition to appearances on TV on shows such as the popular "Rubicon" and "Barev".
Their frequent radio play yielded hits such as "Your Eyes", "The Traveler's Song" and "I Found You In Heaven". Even though there still was no widespread commercial outlet to purchase their music, their popularity grew via live shows, TV appearances, and general media exposure. Citing differences of opinion, Lav Eli disbanded in 1999 in order to pursuit solo projects and other creative endeavors.
Lav Eli reunited in 2004 for the recording of "Notes from Vanadzor: Urban Armenian Rock" (Pomegranate Music, 2006). Produced by Raffi Meneshian, the album enjoyed international distribution and critical acclaim in the world music community. "Notes" also became the first commercially available Lav Eli album where it became a cult favorite within the underground music scene in Armenia.
Lav Eli once again reunited in 2011 with a new musical lineup consisting of classic members Mher Manukyan (guitar/vocals), Gor Mkhitaryan (guitar/vocals) while also introducing newcomers Bagrat Aznauryan (guitar/backup vocals), Tigran Voskanyan (bass), and Shogher Manukyan (cello). The new lineup returned to the musical stage performing live shows in Armenia and abroad.  To celebrate the band's 20th anniversary in 2015, Lav Eli performed a series of three special shows in Armenia featuring a mix of classic lineup members and the new members of Lav Eli.
In the wake of popular demand, Lav Eli went back into the studio in 2018 to digitally release their newest album entitled, "Autumn Raindog" that yielded hits like the title song "Autumn Raindog", "Autumn", "The Day We Met". Following the album, the band released an animated video by Tigran Araqelyan of On/Off studio on the single "To the Sun, to the Sun" recorded together with Armenian singer/songwriter Armine Hayrapetyan, which soon became a fan favorite.
In 2019, LAV ELI, together with The Bambir, an Armenian rock band from Gyumri, played a unique show at a soviet-era Cinema Russia, dubbed the rock concert of the year by the local media.
In 2020, LAV ELI updated its lineup now consisting of Mher Manukyan (guitar/vocals), Gor Mkhitaryan (guitar/vocals), Gor Tadevosyan (guitar/backup vocals), Tigran Voskanyan (bass), Shogher Manukyan (cello) and Vardan Paremuzyan (drums) of The Bambir. Twenty five years after their first appearance, Lav Eli continues to carry on a rich Armenian folk rock musical legacy to the delight of three generations of listeners.
Shows
Our Events feature allows you to post your upcoming concerts and events on your website in a calendar or list view. The Pro plan even lets you sell tickets directly through your website!